Upcoming Performances and Workshops
CONCERTS:
There are a lot of moveable parts when putting together our workshop sessions and public performances. The biggest piece of the puzzle is YOUR attendance.
Coming right up!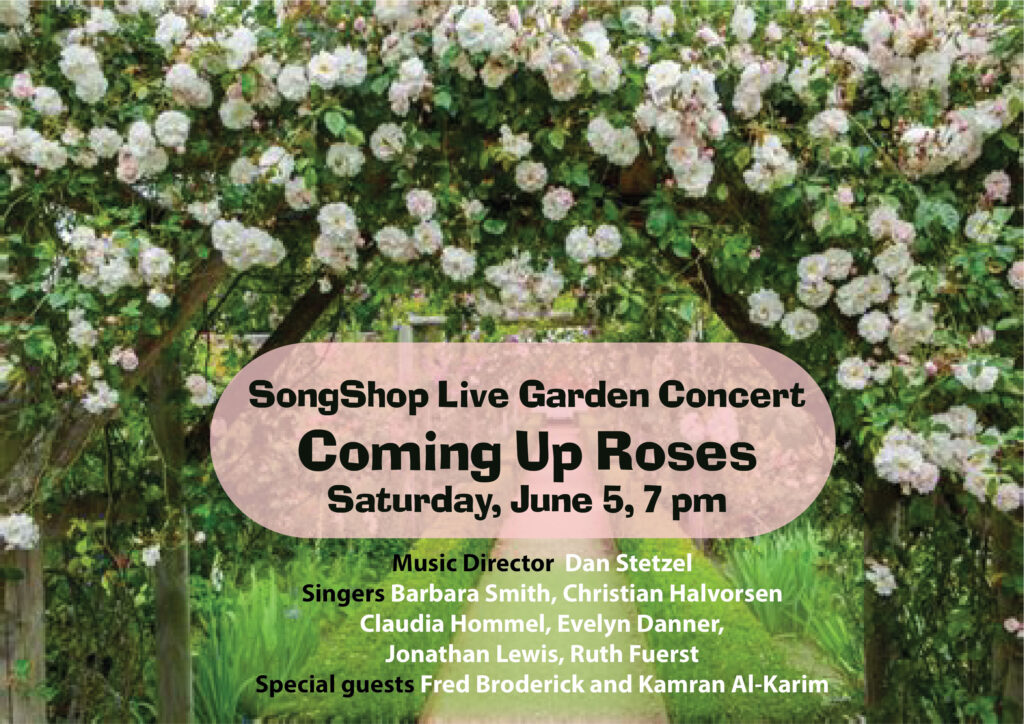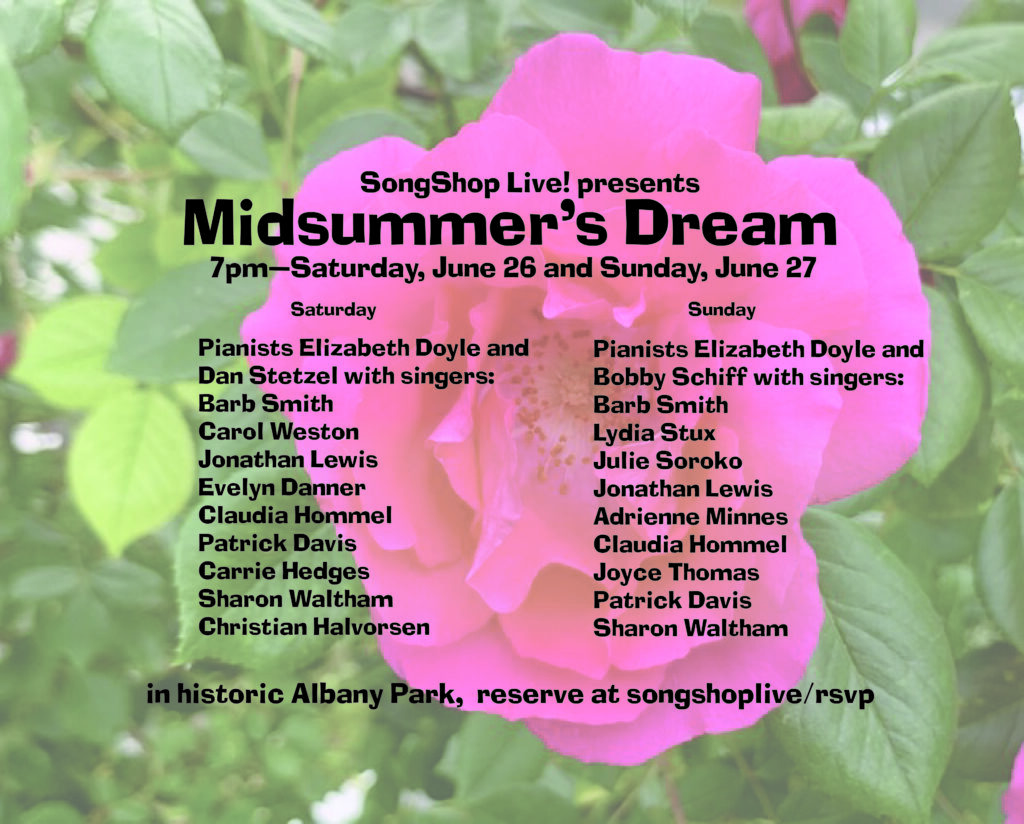 SongShop Live Garden Concerts
Saturday, June 5 at 7 PM: "Coming up Roses" [the recorded concert is available at our viewing page]
Saturday June 26 & Sunday, June 27, both at 7 PM: "Midsummer's Dream"

We're gathering in the gardens of three neighbors in Albany Park (near Lawrence and Pulaski). AND we're live-streaming the concert to our virtual audience. Light beverages will be offered.

Pianists:
Bobby Schiff (June 27), Dan Stetzel (June 5, 26), Elizabeth Doyle (June 26, 27).

Singers:
Adrienne Minnes (June 27), Barb Smith (June 5, 26, 27), Carol Weston (June 26), Carrie Hedges (June 26), Christian Halvorsen (June 5, 26), Claudia Hommel (June 5, 26, 27), Evelyn Danner (June 5, 26), Jonathan Lewis (June 5, 26, 27), Joyce Thomas (June 27), Julie Soroko (June 27), Lydia Stux (June 27), Patrick Davis (June 26, 27), Ruth Fuerst (June 5), Sharon Waltham (June 26, 27).

Repertoire includes:
June 5

Come On In
Coming Up Roses
Cherry Pink and Apple Blossom White
Faith of the Heart
Forbidden Fruit
I Only Want to Laugh
It's a Lovely Day Today
Let's Take An Old Fashioned Walk
Lonely House
Old Friends
Old Friend
The Rose
There's a Sunny Side to Every Situation
June 26

How Do You Keep the Music Playing
The Dog
Summer Wind
It's Too Darn Hot
When They Come Back
Look to the Rainbow
Paris Is a Lonely Town
When You Wish Upon a Star
Blue Moon of Kentucky
Our Love is Here to Stay
I Am What I Am (in honor of Gay Pride)
The Best of Times
Blue Moon
June 27

The Cape
My Lazy Day
By the Sea
Clair de Lune (Fauré)
Mandoline (Fauré)
Hurry It's Lovely Up Here
Brand New Day
Getting to Know You
Moondance
Summertime
Who Will Buy
Blue Moon
Walking after Midnight
World Weary
To attend in person or virtually, reservations are now open at SongShopLive.com/rsvp
---
Chicago Paris Cabaret Connexion conference in Chicago, Spring 2022
Chicago Cabaret Week coming Spring 2022
Year of Chicago Music "Chicago In Tune Music Festival", August-September 2021.